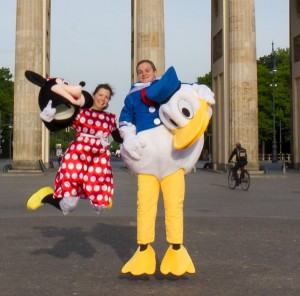 No problem, join us! Simply create your own team and run – with or without costumes – for the medical care of children fleeing war. Those of you who don't like running can also play soccer, cycle, or knit as an alternative.
The "We Run for Kids" team and the members of "Acute support for children and adolescents in Lebanon" are happy to assist you.
Only a few organizational steps are needed before you can get active:
Select a sports event in your region.
If you like, choose a comic character and get a costume. You can also borrow costumes or make them yourselves.
Choose an amount of money (no matter how much) which your colleagues, friends and families should donate in order to see you get active in sports (with or without costumes).
Contact us so we can choose a name for your team. This should be used as a reason for transfer so that we can assign the donations you generated to your team.
If you like, we are happy to add your team to our homepage we-run-for-kids.org. This will give you the possibility to promote your team and post photos and contents and share it with your friends and colleagues.